How to blow dry hair straight at home secrets
In order to have beautiful and healthy hair, we can not just have one or two things right and skip everything else. If you are missing one element in a chain, it is not going to work, even if the other elements are 100% perfect.
It is an axiom and if we are not going to follow it, then all money and time we invest in it is a waste. Well the truth is that almost no one knows and has never been shown in detail (Hands on) how to blow dry, section and how to hold and twist hair styling tools.
Try it now - it's amazing!
Video 1
Before you start blow drying the back make sure you use a straight clip to separate a nice and clean section and then you use it again to clip your section, this is much more comfortable and will save your time. Make at least 4 sections on the back if your hair is fine to medium thick. Always separate your right (back) side first (at least in 2 sections), then when it is dry switch to your left side.
Video 2
Side sections with longer to medium length as you can see based on your hairline angle (although, more hair you have, more horizontal it gets)
Video 3
Look at elbow! It is leveled with your section or higher! Move your brush under when you get closer to the ends! (When you blow dry your right side-SWITCH-hold the dryer in the right hand and brush with your left)When you dry each section make sure you go ALL THE WAY to your ENDS with styling tools!
Video 4
(no bangs) Hairline is very important! Keep tension on your sections. First - over direct roots of the front section (pressing it down)(video 4) and then slowly move brush away from your face. Look at dryer direction.
Do not forget about your elbows the lower they get the harder it is and you have less freedom on swings and directions.
When you are done, use double mirror to see exactly how it looks in the back.
Other details can vary, depending on your hairline, structure and hairstyle, and can be shown individually as hands on class, absolutely free of charge and will take no longer than 20-30 min. To make sure you using the right brushes and clips bring them in for our friendly inspection.
All you need to know about hair dryers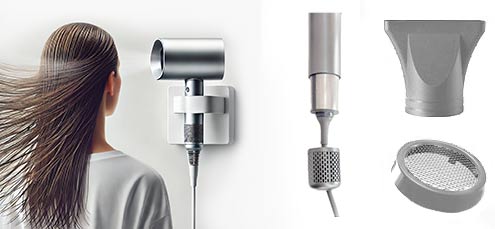 Wattage
Choose from 1800w and higher. This way you'll get a perfect balance between heat temperature and airflow pressure, so the drying process will take less time.
Weight
Heavy blow dryers will not work for most women, pick light-weighted equipment, otherwise, you won't be able to hold it for a longer time.
Nozzle
Very helpful piece of equipment - will increase air flow by 25-30% especially for frizzy type, straightening long kinky hair. Nozzles also help with details on finishing hairstyles with medium or short length. It takes some time to learn it, but it will pay off in the future.
Hands-free wall holders
Excellent if you need to pre-dry your hair before styling. Or you can dry it completely hands-free if your hair was Japanese straightened. All you need to do is just step under the dryer and by moving your head adjust a direction of the airflow. Use your fingers to finish it up.
Price-quality relationship
A great dryer is an investment that can make your life easier. Higher prices always correspond to higher levels of the blow dryer quality. So it is wiser to choose a product that is more expensive but will work for many years.
How to prolong blow dryer life.
Try to clean back filter every 3-4 weeks, this prevents a motor from burningand and most likly it will last forever. You have to unplug a blow dryer, unscrew a mesh screen and clean it with a soft small brush and soapy water. Screw it back by twisting when you done.
What brand to choose
We've tested different brands and according to all the above factors for people with a lot of hair, the winner is Elchim brand. It is affordable and powerful at the same time. If your hair is short and light you may choose something less powerful and cheaper like RUSK Engineering W8less or xtava Allure brand.